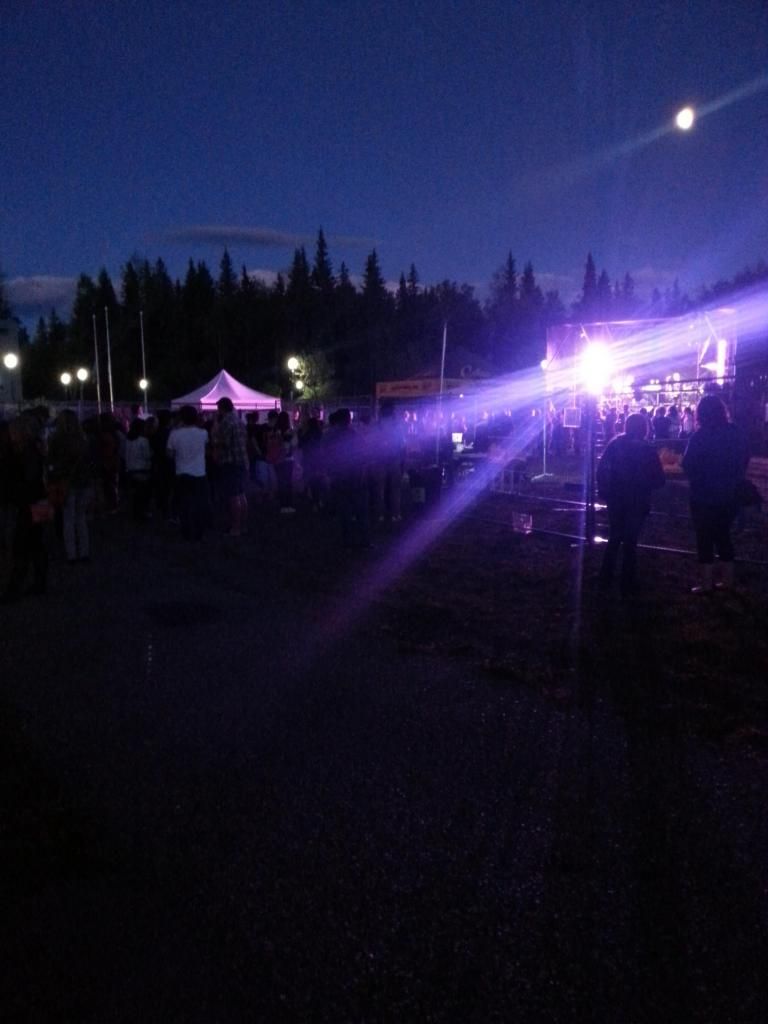 Like Garrett, I was also allured to the annual Back Yard  BBQ with CFUR swag. So after an afternoon nap I hoped on the 7:36 bus up to campus. The bus was jam packed with new students dotting the last of their summer clothes and buzzing with the anticipation of this 15$ event- a quite dignified sounding event with both beer gardens and security.
The energy of that bus ride floated on to campus, dusting the green grass under sunken skies with the hope of a fun party. I stepped off of the bus and heard the rollicking sounds of the Yukon's very own Speed Patrol. Speed Patrol is a pop punk/rock band with sounds of Sum 41, Blink 182 and a touch of Simple plan in the mix. Though the crowd was small and the sky too bright for anyone to really let loose, pockets of rock faithful's boogied hard to the tenacious offerings of the energetic foursome. I was extremely impressed by the bands energy and musicianship – they gave the crowd every ounce of themselves with a seamless fluidity throughout the entire set. It is too bad Garrett missed this act, as they had a fun little game. They played 30 seconds or so of 11 different rock classics, and whoever could name all of the songs would win some Speed Patrol swag. Garett would surely have won as the 11 songs were truly reminiscent of classic rock via Garett and Karl 2000. They rounded out their set with a cover of The Darkness' "I Believe in A Thing Called Love" which had even the most dignified people shaking their butts, a very fun song indeed.
And then came DJ Ant! A tough slot between two rock shows, and the time barely clocking in at 9 pm. This however did not phase dance commander Ant, and within a few minutes he had the crowd gyrating to the sweet sounds of bass under the sweet stars in the sky. I remember noting, audibly, that DJ Ant took us on a ride though many different era's biggest pop songs – "Jessie's Girl" in a throwback to the 80's, up to the present with some LMFAO. There were many more crowd pleasers tucked in there, breaking the ice between strangers as everyone could sing along. DJ Ant was successful in jacking up the energy of the night, drawing out dancers from the corners of beer gardens and shyness, delivering the crowd both what they wanted and needed to get them ready for an adventurous endeavour.
Once the mood was set, DJ Ant bowed out while pop rockers Pirate Radio took the stage. A mix of everything is how I remembered this band – pop, rock, electronic, hip-hop, reggae. No need to define or label these people, they have their own thing going on. And if one word could sum up their sound and presence it was ENERGETIC. The lead singer had amazing hair and a wicked head bang. I climbed up a barricade, just a tad, to better view the crowd. Well, might as well have been at some stadium show the way the crowd was roaring. We had people on top of people on top of dancing feet, it was a little slice of rock n roll enigma right on the small patch of grass beside the bus loop. Pirate Radio finished to a very appreciative crowd who then filled free buses to go downtown and spread the beautiful chaotic energy of the night to the thirsty streets of down town Prince George.
Back Yard BBQ – A+ in rounding up humans and giving them fun by stuffing their ear holes with music.