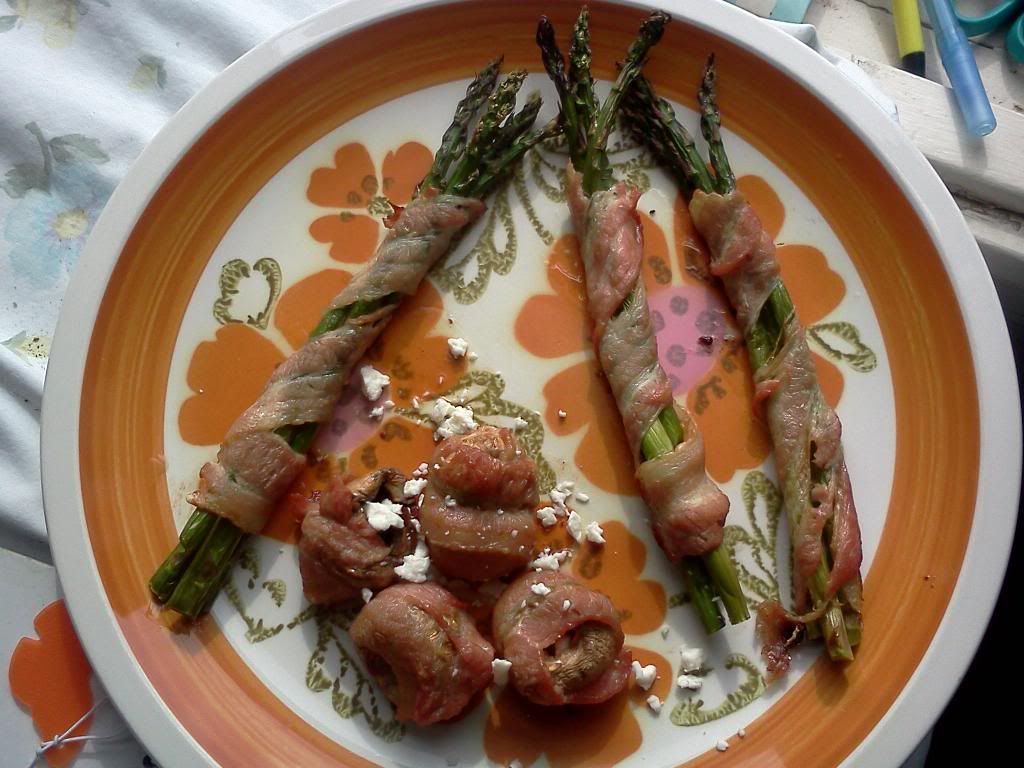 This week I made some celebration appetizers to celebrate the fact I have bacon in my fridge. I paired these bacon detectables with a playlist I like to entertain with. Something for everyone - and a little boogie potential too.
Bacon Wrapped Asparagus & Mushrooms
Wrap your veggies in bacon. I did 3 skinny asparagus' per bundle.
Do this tightly so you don't need to use a toothpick to hold everlasting together!
Cook at about 400 for 10-15 minutes.
Broil for about 5 to crisp up bacon to preferred doneness.
Sprinkle with goats cheese
A Playlist to celebrate/entertain with:
Stevie Wonder - Uptight ( Everything's Alright)
Patrick Wilson - Quittin Time
The Velvet underground - Some Kinda Love
Opossum - Blue Meanies
Beach Day - Stay
Shannon And The Clams - Into A dream
King Khan And The Shrines - Land of The Freak
Chumbawamba - Tubthumping ( palate cleanser)
The Talking Heads - Slippery People
Deehoof - Super Duper Rescue Heads!
Electric Six - Danger! High Voltage
T Rex. - Born To Boogie
Gorillaz - Feel Good Inc
Yeah Yeah Yeahs - Dragon Queen
Check it out meow online here to listen
Or here to read