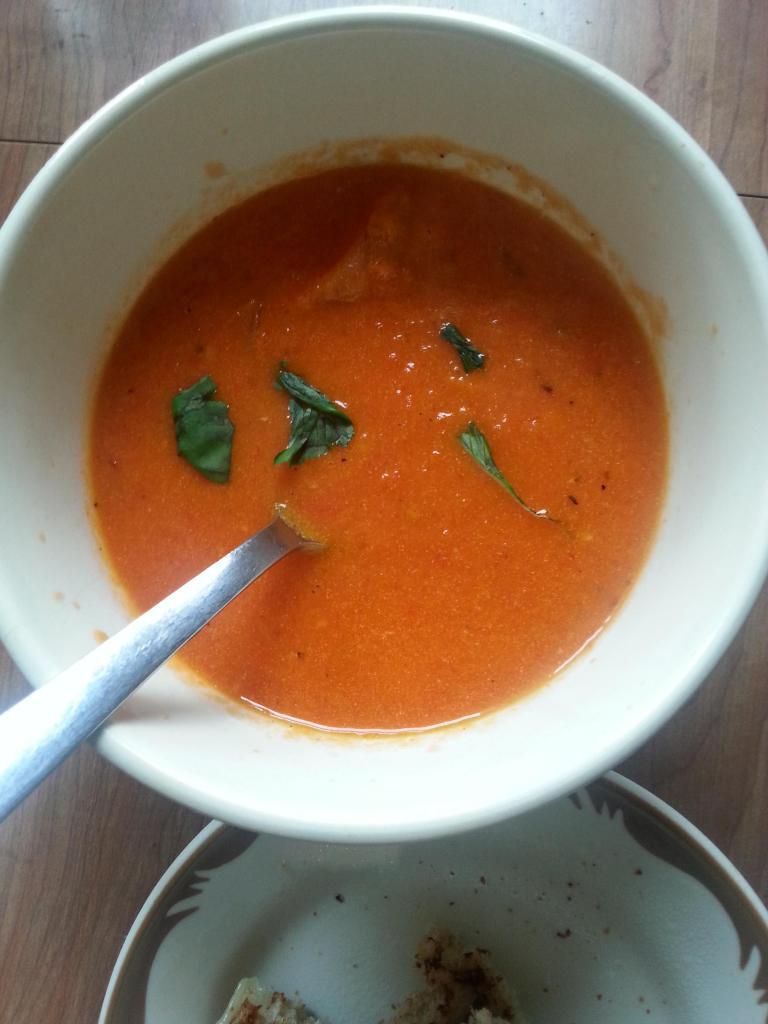 After a road trip to Revelstoke, side-sweepng the Okanagon, I came back to PG with 80-90 pounds of tomatoes. Intense canning and pureeing sessions ensued, so much so my house began to sweat a grimey orange liquid from its grimey old walls in response to the troubling humidity index inside my house.
In the fury of such endeavor, I threw both songs and roasted delectables into a pot, first coming out with a roasted tomato soup, then a roasty - toasty playlist. Good things all together in a pot, or playlist, is this weeks theme. Edmonton and Calgary get some face time. Canned Heat can be expected next week.
About 8 big tomatoes
8 cloves of garlic, skin on
1 BIG onion chopped into chunks
2 peppers of your choosing, I did red and yellow, cut in half
3 cups of water or stock
1/2 cup of cream or milk
Butter
Some fresh Parmesan or Sovrano cheese
Dash of baking soda
Fresh Basil
Throw the tomatoes, peppers, onions and garlic on a pan with some oil and pepper and roast at about 450 for 20 minutes, then turn to broil for 5 0r 10 minutes so skins are charred
If you leave the skin on the garlic, you can squish the roasted garlic out of it's little natural package
Add these things into a pot with a  good slab of butter
Add the stock/water, bring to a boil and simmer for 20-30ish minutes
Blend in a blender or use a hand blender
Add salt and pepper
Add a dash of baking soda ( this prevents curdling)
Stir in the cream/milk and grate a good deal of cheese into this puppy
Add some nice pieces of fresh basil, and then pour into bowls and garnish with even more basil!
Some tunes:
The Lad Mags - The Browns
Brazilian Money - Macaroni Makeout Party
Pine Tarts - Mosel
Pine Tarts - Modern Lovin
Cadence Weapon - Conditioning
Cadence Weapon - Jukebox
The Lad Mags - Trick
Odds - It Falls Apart ( Palate Cleanser)
Karen O Feat. Peaches - Backass
Warpaint - Beetles
Chad Vangaalen - Cries of The Dead
Neutral Milk Hotel - Where You'll Find Me Now
Blondie - Heart of Glass